Multilingualism
We support all Unicode characters and even right-to-left languages like Arabic and Hebrew!

Gamification
Digital badges and leaderboards drive engagement and showcase learners' progress.
Assessment
Built-in tracking of participant activity and private feedback on submissions.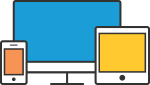 Integration
Our Platform Gallery supports rich embedding of content from over 1,700 platforms.

Simplicity
We can integrate with any existing membership database or OAuth system you use.